MADURAI: Public Relations Officers (PROs) play a very significant role in any organisation and they are the pillars on whom the reputation and growth of an institution depends, be it a private or public sector, Dr.C.Chandran, Chairman, Queen Mira International School (QMIS) has said today.
"They are not just creating good rapport between the general public and organisation where they are working. It is the PROs who are the real pillars, they are like a shock absorber bearing everything and building image for their respective institutions. So, the growth of any organisation depends on a PRO," he observed.
Dr.Chandran was speaking at a function organised in Madurai on 26th December 2021 by the Madurai Public Relation Officers' Federation (MPF) to welcome new year 2022 by cutting a cake, relasing the new year calendar and felicitating a best teacher awardee.
MPF made a mark for itself:
Prominent public speaker and president of Kaviyarasu Kannadasan Narpani Mandram 'Manithatheni' R.Chockalingam, who was the guest of honour, has said that the Madurai Public Relation Officers' Federation had made a mark for itself in the last two years through its various social service and public outreach activities carried out with participation of all its members as one team.
The new year 2022 calendar brought out by MPRF was released by QMIS Chairman Dr.C.Chandran and it was received by Mr.Chockalingam. Best teacher awardee Mrs.S.Latha was honoured at this function. Mr.Abinath Chandran, managing director of QMIS and Ms.Sujatha Guptan, director-Academics-QMIS, offered their felicitations to the public relations officers and members of MPRF.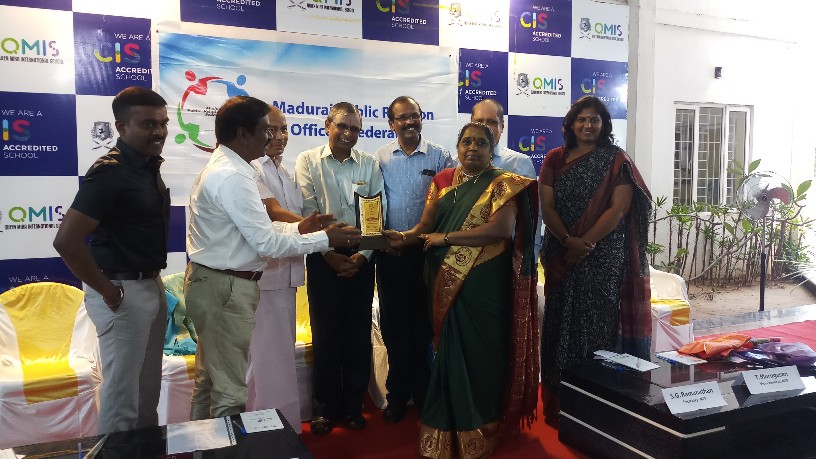 Mr.J.Murali, president, MPF, Mr.S.G.Ramanathan, secretary and Mr.T.Murugeshan, vice-president, were among those who spoke at today's event. S.Gokulanambi welcomed the gathering and G.Sandhanakrishnan proposed a vote of thanks. RJ Ms.Sakthi was the compere.