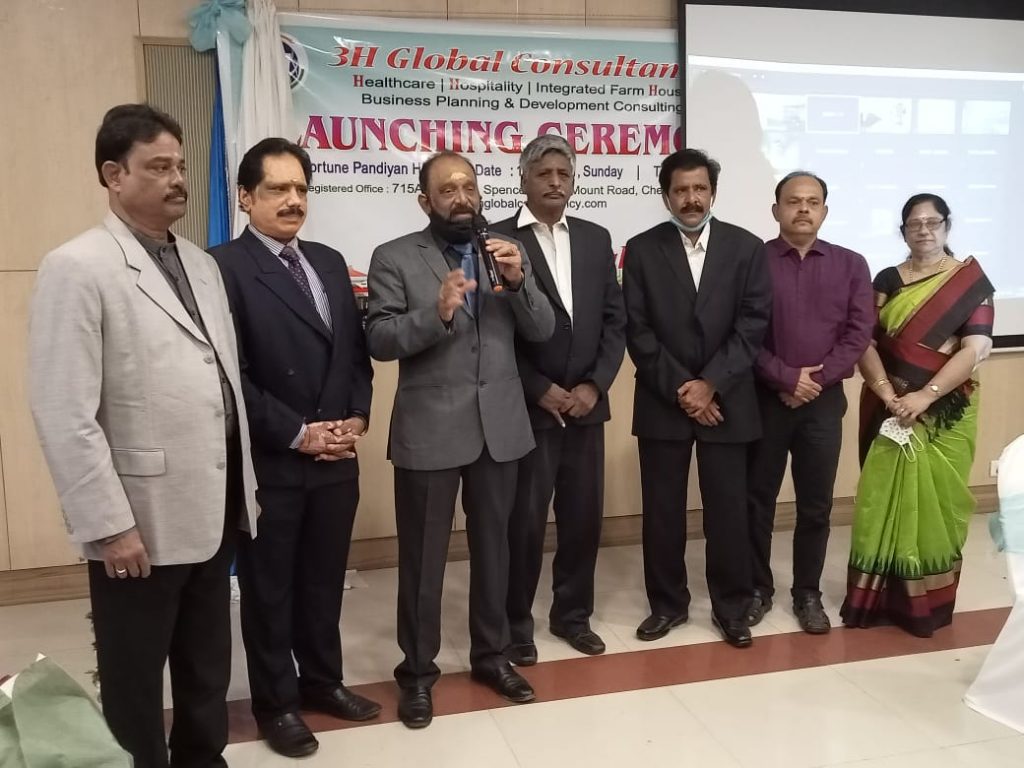 MADURAI: From the famous temple destination Madurai in Tamil Nadu, a global consultancy was launched in the service of nation on 17th January 2021 to give right guidance. It focuses on Healthcare, Hospitality and House (Integrated Farm House) and hence the name 3H.
The 3H Global Consultancy took off from Madurai today in the presence of experts, eminent persons, entrepreneurs etc who were present for the launch ceremony in limited numbers by following the pandemic rules but many had joined in virtual mode through zoom giving their felicitations and opinions via video streaming. Mr.T.N.Sekar, Executive Director, 3H Global Consultancy, had given a briefing to reporters at a press conference after the formal launch here today morning.
"WE ARE HERE TO GUIDE":
Mr.T.N.Sekar has said that the 3H Global Consultancy will guide international and domestic people in a multi-sphere consultancy activity with its 30 member expert team. "This is a new concept that focuses on healthcare, hotels, home for aged, organic farming etc. Our 3H is well equipped with experts to provide exert guidance in Healthcare, Hospitality, Integrated Farm House, organic farming, business planning and development consulting," he added.
Explaining the reasons for launching 3H in India, Mr.T.N.Sekar said that foreign and domestic patients are looking for right guidance and right destination. "We will give medical tourism guidance, medical treatment options. We are having experts to guide on agriculture- integrated farming- farm houses etc. Entrepreneurs and NRIs can approach us," Mr.Sekar said and added that their consultancy will cover the well-being of sick patients, sick industries, revival, rehabilitation and rejuvenation through a method drafted by experienced manpower.
FELICITATIONS AND GREETINGS:
A large number of prominent persons from different fields had given their greetings / felicitations to the 3H team led by Executive Director Mr.T.N.Sekar. Among those who offered their best wishes include 'Pattimandram' Raja, Adigalar swami, Tamil Nadu Chamber president Mr.N.Jegatheesan, Chamber senior president Mr.S.Rethinavelu and Mr.Subaveerapandian.
Mr.T.Murugesan, one of the Directors of 3H Global Consultancy and chairman of Suji Healthcare in Madurai, welcomed the gathering.
V.Gracy Rathnavathi, Project Executive Consultant of 3H Global Consultancy, had given details about the objectives of launching this consultancy. (WEBSITE: www.3hglobalconsultancy.com). E-mail: umasekar2019@gmail.com. Mobile number: 82482- 24422 and 99946-36380.
In Chennai, the registered office of 3H Global Consultancy is in Spencer's Plaza. It has branch offices at Madurai, Coimbatore and Tiruchi.