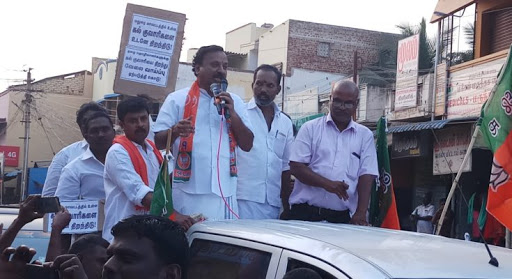 CHENNAI There is a strong disappointment and resentment among granite units, granite manufacturing companies and workers of granite factories with the Bharatiya Janata Party (BJP) in Tamil Nadu because of the manner in which BJP leaders from Madurai had given false hopes on revival of granite industry in Tamil Nadu in the last three years.
There is a silent wave going on against the BJP in Madurai region because of the manner in which the then BJP State Secretary Prof.Dr.R.Srinivasan ( now State General Secretary) and his team had used granite industry issues for their campaign and their failure to get things done for the welfare of lakhs of granite dependent workers in Madurai district and a few other districts.
"Believing BJP Prof.Srinivasan's words, the granite units had mobilized and spent Rs.47 lakhs for protests and 'yatra'. Nothing was done till now and what is spent by us is totally waste. The BJP used our granite issue for its sake……The AIADMK government not given permission for revival and reopening of granite manufacturing units. BJP have us false hopes, we spent money, we spent for their leaders hotel stay and travel by flights…..No use at all," a senior granite industry representative has said from Chennai today evening to 'Lotus Times' news website- on 2nd August 2020.