MADURAI: Writing an objective profile piece of a political leader is a daunting task in many cases. It is because of the fact that flattering the person and creating a hype for him tends to overpower the facts and truth. It is nothing but sycophancy and this writer will never indulge in that. With that intro, I am attempting to write about a trusted Man from temple city Madurai.
So, writing a brief point blank presentation about Tamil Nadu BJP State Secretary / spokresperson Prof.Dr.R.Srinivasan of Madurai becomes easy since this leader is a worker on the ground doing fieldwork to expand the party's base, he is always a grounded man available to party cadres with humility and he knows the exact ground that has to be politically captured to make 'Lotus' bloom in a land dominated by Dravidian parties with his nationalist thoughts, integration ideas and his ATM quality of All Time Man or Any Time Man.
His long experience in RSS and Swadeshi Jagran Manch is now working wonders for him in his strategy of social engineering and development agenda to take forward the Bharatiya Janata Party (BJP) to every nook and corner in five districts of Madurai Zone of which he is the in-charge now for last three years.
His Madurai Success is only a sample. Our 'Lotus Times' website greets him on his birthday being celebrated by cadres on September 3rd 2019. I present to you this honest and non-paid write-up about Prof.Dr.R.Srinivasan who has the potential to make BJP breach the Dravidian parties. Please read the reasons why this man from Madurai can make it big for the BJP in coming days.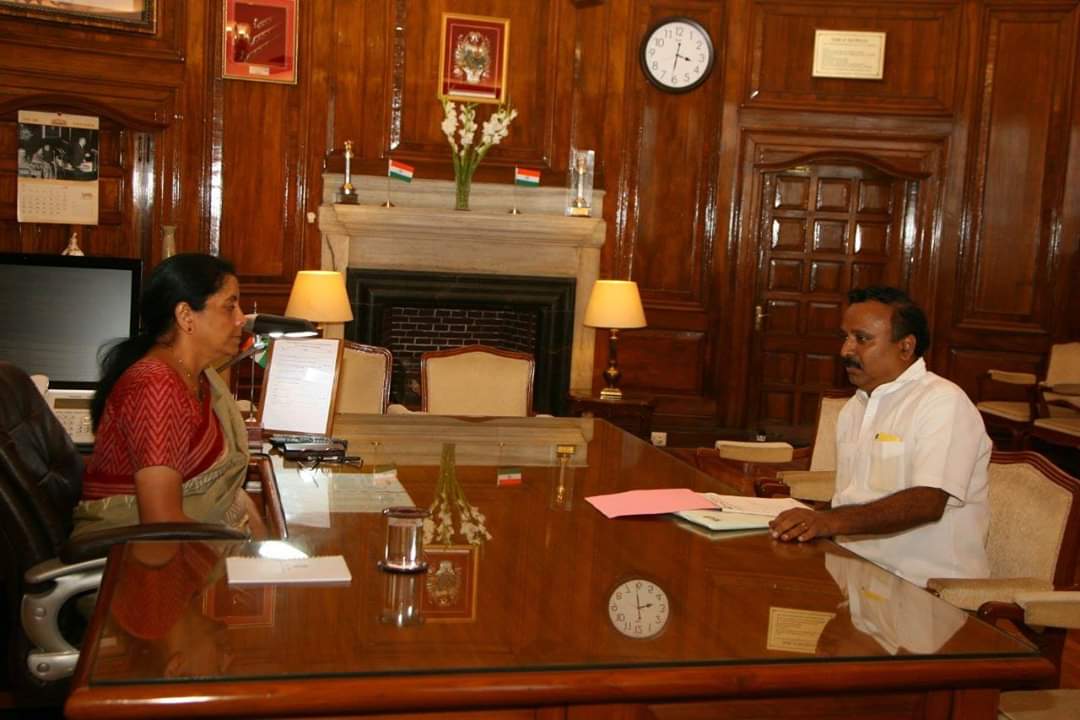 KNOWLEDGE IS WEAPON:
"Always mix and mingle with the local people…..Political experience is more important than political knowledge…..That experience comes only if you are with the people and their issues," Prof.Dr.Srinivasan would daily tell BJP functionaries during his wide travel across Madurai Zone covering five party districts.
HIS CREDENTIALS AND CREDIBILITY:
1. Tamil Nadu BJP State Secretary Prof.Dr.R.Srinivasan has been associated with the nationalist ideology for several decades. Since 1985, he is with the parent body RSS, he completed two RSS camps which are important to undergo a complete transformation for selfless service to 'Bharat Matha'.
2. He was the Dindigul district RSS secretary till 1993.
3. He has been very active in Swadeshi Jagran Manch (SJM). He played a key role as State co-convener of SJM in Tamil Nadu.
4. From 2016, Prof.Dr.Srinivasan has been tirelessly working as State Secretary of Tamil Nadu BJP looking after five party districts – Madurai Urban, Madurai Rural, Dindigul, Theni and Virudhunagar districts.
5. At his office in Madurai city, he started Pandit Deendayal Jan Seva Kendra (Makkal Sevai Mayyam) where a special team attended to people's needs for welfare schemes.
6. His pro-active involvement helped thousands of rural people as PM Modi's central government welfare schemes were taken in a big way to households in Madurai Zone, especially in Madurai rural district, and more so with very good follow-up by Madurai Rural district BJP team.
7. Substantial credit for getting the prestigious All India Institute of Medical Sciences (AIIMS) which was sanctioned for Madurai goes to BJP State Secretary Prof.Dr.R.Srinivasan, who galvanized AIIMS issue into a public movement in Madurai two years back. Now, AIIMS is a reality, it happened and the foundation stone was laid by Prime Minister Modi.
8. This BJP leader is a very powerful orator, spokesperson, debater, very good in English and Tamil, conveys the BJP points in simple language to the masses, tirelessly travels, spends lot of time in party office meeting common people, he guides the party office-bearers from booth to district level in five districts and he is a sought after person for many associations, communities, caste groups, trade bodies and TV debates because of his impeccable knowledge. He is a good listener, talks to people about their grievances and takes immediate steps for solutions. There is lot of proof.
9. Prof.Dr.R.Srinivasan was the BJP candidate for Tirupparankundram Assembly constituency by-election just after he took charge in Madurai as zone in-charge of the party. At that time, he secured over 7,000 votes in a tough situation as BJP cadres solidly campaigned for him day in and day out during that campaign period. That was the love and trust the party cadres in Madurai district and Madurai Zone had for him. This 7,000 vote figure, it was learnt, was the highest for BJP in a by-election in Tamil Nadu.
10. THE IMPORTANT ROLE PLAYED BY PROF.DR.R.SRINIVASAN in TWO CRUCIAL ISSUES – of saving the livelihood of workers of SIVAKASI fireworks and fireworks manufacturers industry/ and in the genuine campaign for reviving the granite quarries in Madurai district – made the BJP very popular among the local people. These two issues of Sivakasi crackers for Deepavali festival and revival of granite quarries have garnered national attention. Solutions are in sight and people know that. It is a credit for the BJP in Tamil Nadu. Granite issue was heard by the National Commission for Scheduled Castes (NCSC).
11. Prof.Dr.Srinivasan had extended his reach beyond just routine politics. He held seminars on protecting our local water bodies, he has been in-charge of Policy Studies Cell of the BJP in Tamil Nadu, he gave vital inputs on crucial issues and he is very actively taking up steps for BJP success as leader in-charge of Madurai Parliament Constituency.
12. He has a passion to write and a passion to read. His contribution towards spreading the BJP ideology and nationalist thoughts among the people is well-known through his series of works on party ideologue's mantra 'Ekatma Manava Darshan.' Also, he writes periodically for 'Ore Naadu' and 'Vijay Bharathi' publications that spread nationalist thoughts for present generation in Tamil Nadu.
13. The success of getting postal stamp released for freedom fighter Alagumuthu Kone goes to this Madurai-based BJP leader who is a State material with growing popularity thanks to his vast knowledge from anicent history to contemporary.
14. Prof.Dr.R.Srinivasan has emerged as a successful expert in social engineering. The best example of that was about Devendra Kula Vellalar community people about whom Prime Minister Narendra Modi too spoke about during his visit to Madurai early this year in 2019. The effort for this was by Dr.Srinivasan and the credit too is for him and his team. Now, Amit Shah and Modi are fully aware about the demands of Devendrakula Velalar community people.
15. With regards to GST issue too when it began to be implemented, he held seminars for people to create awareness among the traders. Infact, the then Union Commerce Minister Mrs.Nirmala Sitharaman came to Madurai and spoke to business community to clarify their doubts and listen to grievances of business community at MADITSSIA Hall in Madurai city.
16. A very important trait of Prof.Dr.Srinivasan is that he is a community man. This means people from all castes come and meet him, interact freely and repose faith in him. And this BJP leader makes sure that every caste and community gets recognized with all respect.
17. All eyes are now on hill station Kodaikanal. Ever since Article 370 was abrogated by the Indian government for Jammu and Kashmir recently, there is a demand to rename Kohinoor bungalow. "Sheikh Abduallah was in those days kept under confinement and hence it got named after him due to political reasons…. It is not acceptable. Now there is no Article 370. This bungalow in Kodaikanal should be named after freedom fighter Subramania Siva who hails from that region….", he says.
18. The BJP is very much visible in Madurai Zone. Recent membership drive has showed that Madurai region gave good numbers for the party thanks to field work done in Madurai area…. Many people are coming voluntarily to his office to join the party. What happened on September 2nd 2019 was an example. A day before this birthday, the BJP functionaries were busy fixing up dates for mass joining of people into the BJP.
19. He is a good translator in public meetings. A few of PM Modi's meetings in the south were translated by him into Tamil, in the year 2019. Vidoes are in public domain.
20. There is a genuine affection towards him among BJP cadres and office-bearers. For this calibre, capacity and content, for his hard work, humbleness and humility, for his devotion and dedication, for his clean heart and clean hands, and above all for this round-the-clock availability for the party and cadres, I think it will be a matter of time for next elevation to Dr.Srinivasan's up the ladder in the BJP.
'LOTUS TIMES' website greets Prof.Dr.R.Srinivasan on his birthday on September 3rd 2019. From a small place T.Kallupatti in Madurai district, he worked hard in his life for the cause of this nation and the ideology he believed in. He missed his family, but the BJP cadres say he is their family member. This website took shape after his idea to have a platform for the BJP in English from Madurai. 'Lotus Times' was started in the year 2017.