(THIS IS AN ARTICLE WRITTEN FOR OUR WEBSITE BY A RETIRED INDIAN AIR FORCE (IAF) OFFICER BASED IN CHENNAI. HE WRITES ON OUR COUNTRY'S SECURITY AND DEFENCE RELATED ISSUES UNDER HIS FAVOURITE PEN NAME 'TRUE INDIAN.'. Shastry V Mallady had collected and published. Thanks to the IAF expert for his insights).
INTRODUCTION:
"Wanted to join the Armed Forces in childhood" said PM Narendra Modi, in a free-wheeling interview with Bollywood icon Akshay Kumar. This line pretty much sums up the soft corner our PM has had over the years towards the Armed Forces.
The Modi government has identified national security as a key requirement and more importantly, has given high priority to the welfare of defence personnel and their families. The focus has been on welfare of servicemen and ex-servicemen, defence procurement, production, self-reliance, modernization and border security.
To give an example, the surgical strikes and the aerial strikes carried out by our SECURITY forces, signify a subtle but cautious political handling of cross border terrorism. India responded to the Pulwama attack with a clear strategic resolve. However, it is noteworthy that India practiced restraint by not targeting any civilians or military installations of the adversary. The people of India felt a surge of hope that here is a Government which will not bow down to terrorism by lying down and the one which genuinely respects its martyrs, soldiers and their families.
This recent shift in India's stand has made the world look back and take note of a more confident India, with a potential to emerge as a stabilizing factor in the region.
On the other hand, there has been a strong push towards modernization of the forces, innovation and self-reliance. The focus has been on continuously improving our defence preparedness.The government has also accelerated defence procurement agreements for meeting critical defence deficiencies in weapons and infrastructure while creating a robust climate for defence manufacturing in India.
This unique approach of enhancing diplomatic standing, creating a robust defence architecture and taking up soldiers' welfare as a matter of priority are at the core of Modi government's approach towards the new defence doctrine.
The monograph delineates the key initiatives undertaken by the Modi government (in simple terms understandable to the common man) over the past five years in order to enhance the might, standing and public perception of the Indian Armed Forces.
INDIAN ARMED FORCES –BACKGROUND
Indian Armed Forces are the military forces of the Republic of India. It consists of three professional uniformed services: the Indian Army, Indian Navy and Coast Guard, and the Indian Air Force.
There are four key tasks of the armed forces in all – To assert the territorial integrity of India, defend against foreign aggression, support the civil community in case of natural disasters, participate in United Nations peacekeeping operations in consonance with India's commitment to the United Nations Charter.
Over the years, since 2004, matters of critical concern to India's security have come to light. Factors such as lack of political will, obsolete equipment, lack of adequate arms and ammunition, rigid bureaucratic structure shave adversely impacted the armed forces and its personnel.
The Modi government inherited a defence ministry laden with bureaucratic apathy, lack of transparency and shoddy focus on modernization. We were critically low on ammunition not enough to sustain ten days of war.
Given these issues, it becomes imperative to understand the various factors which the current Government has taken into account and effectively implemented over the past five years in order to enhance the standard and operational preparedness of our Armed Forces.
DEFENCE BUDGET
It was heartening to see that the defence budget was increased for the first time to three lakh crore in 2019-20.I t has also been indicated in the budget that for securing our borders, maintain preparedness of highest order and for the welfare of defence personnel, additional funds shall be provided whenever necessary.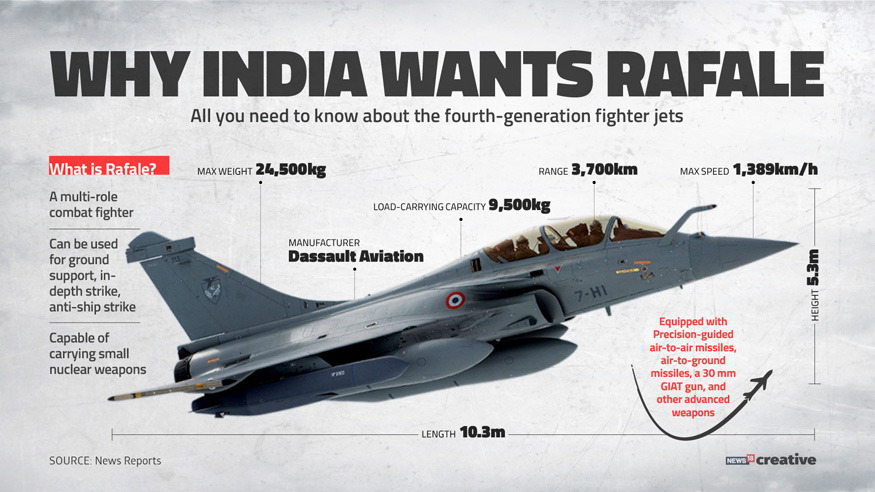 DEFENCE REFORMS – PRODUCTION & PROCUREMENT
Steady modernization is a pre-requisite for building up a strong military capability. Modi government has taken up modernization as a priority and has brought about significant policy changes to overcome structural and organizational hurdles.
There has been a consistent focus and push in the three key sectors –Defence Production, Defence Acquisition and Research & Development.
Long Pending Procurements Sealed between 2014 and 2019
It was only the Modi Government, in 2015, which finally sealed the deal by ordering 36 "ready-to-fly" Rafale jets in a government-to-government deal.The requirement was projected well over a decade ago and as of 2014, the deal was put on hold by the previous Government after years of negotiation This has been the speed and focus with which the Modi Government was worked on critical procurements overdue for several years.
Until October 2018, about 204 contracts have been signed with an estimated value of Rs. 2,47,987 crores, for capital procurement of defence equipment for Armed Forces such as Radars, Aircraft, Rockets, Artillery Guns, Helicopters, Missiles, Ballistic Helmets, Bullet Proof Jackets, Weapons, Simulators, Electronic Fuses and Ammunition.
Apart from acquiring weapons and equipment, India has finalized an exclusive Rs 5,650-crore military infrastructure development plan in January, 2019; spread over 10 years, for the strategically located Andaman and Nicobar archipelago which will allow stationing of additional warships, aircraft, drones, missile batteries and infantry soldiers there.
Defence Procurement Procedure 2016 – A major thrust
Defence Procurement Procedure (DPP)-2016, which has come into effect from April 2016, focuses on institutionalizing, streamlining and simplifying defence procurement procedures. It also caters, for implementation of Make in India Policy of the Government.
A new category of procurement 'Buy (Indian-IDDM) (Indigenously Designed, Developed and Manufactured)' has been introduced in Defence Procurement Procedure-2016 and has been accorded top most priority for procurement of capital equipment. This is expected to be a game changer as this is likely to stimulate the Indian ecosystem and give a thrust to R&D in the sector.This will result in massive employment generation and talent identification of brilliant civilian personnel interested in playing a supportive role to the armed forces.
Indigenization and consequently employment generation in the defence sector has been the focus of this Government since 2014, with 128 contracts worth Rs 119069.09 crore having been signed with Indian vendors for defence equipment.
A critical contract procurement of 1,86,138 bullet proof jackets with contemporary specifications was awarded to an Indian manufacturer under the Buy Indian category; thus giving a massive thrust to the safety of the defence personnel and allowing their families to feel more secure about their loved ones fighting along the border
Boost to defence production:
Defence production, in the last five years, has grown 80 per cent to be pegged at Rs 80,000 crore in 2018-19. Already, 150 contracts worth Rs 1,27,500 crore having been signed under PM Modi with Indian vendors for defence equipment. This has greatly enhanced the morale of personnel working towards the security of the country.
Firing up the Make in India dream
In order to achieve the goal of self-reliance in defence production, the Government, under the umbrella of "Make-in-India" campaign, has rolled out several policy initiatives to lower entry barriers and improve ease of doing business: significantly simplifying conditions for FDI into the sector and allowing up 49% on the automatic route, relaxing norms of industrial licensing and defence exports, bringing flexibility in discharging offset obligations and providing a level playing field for private players.
'Make in India' in defence sector has been introduced in all major areas of defence such as welfare measures, combat vehicles, combat aircrafts, warships, weapons, ammunition, missiles, radars, electronic warfare systems etc.
For instance, specialized clothing for high altitude areas was being almost entirely imported earlier. Today, 80 per cent of such clothing is of Indian origin, and the objective is to achieve 100 per cent indigenization in the next two years.
For years, Indian leaders have said that they desire to have 70 percent of the country's defense needs met through the domestic production with only 30 percent deriving from foreign imports. For a decade prior to 2014, the ratio has been frozen at nearly the exact opposite. Modi has embraced India's longstanding obsession with indigenization and is moving towards the 70-30 dream.
These consequences of 'Make in India' have strongly benefited the economy and have helped restore faith of the civilians that India is very much capable of being self-reliant and self-sustainable in the defence sector and it is only a matter of time to achieve the same.
Additionally, in August 2014 Delhi raised the cap on FDI in defense to 49% from 26%. It is estimated that India's defence sector;which is one of the world's largest and lucrative markets — requires $130-150 billion for modernization and restructuring in order to become self-reliant in the coming decade.
Only a liberalized FDI regime can help achieve this total transformation of the forces and PM Modi's FDI initiatives are perfectly on track to make this happen.
BHARAT MATHA KI JAI…..