RAJAPALAYAM: A textile hub that brewed up in a small village called Chatarapatti in Virudhunagar district in Tamil Nadu got its doubts cleared about the Goods and Services Tax (GST) rates and also for their further clarifications / assistance, thanks to the BJP.
A team of BJP leaders led by Tamil Nadu BJP State Secretary Prof.Dr.R.Srinivasan took steps to hold a meeting in Chatarapatti village, 5 kms closer to Rajapalayam, in Virudhunagar district on
November 2nd 2017
.
Senior level officials handling the GST issues addressed the manufacturers, clarified their doubts and further assured that the concerns raised by the textile hub will be taken up at the higher level.
"This village has emerged as a textile hub….Chatarapatti is known for medical band-aid cloth……I was told that the turnover from this small place is Rs.300 crore and the community here is a Saliyar community…..This is a very enterprising community with a humble background," Prof.Dr.Srinivasan told the "Lotus Times' website over phone after the meeting on
November 2nd 2017
.
HEARS GST ISSUES: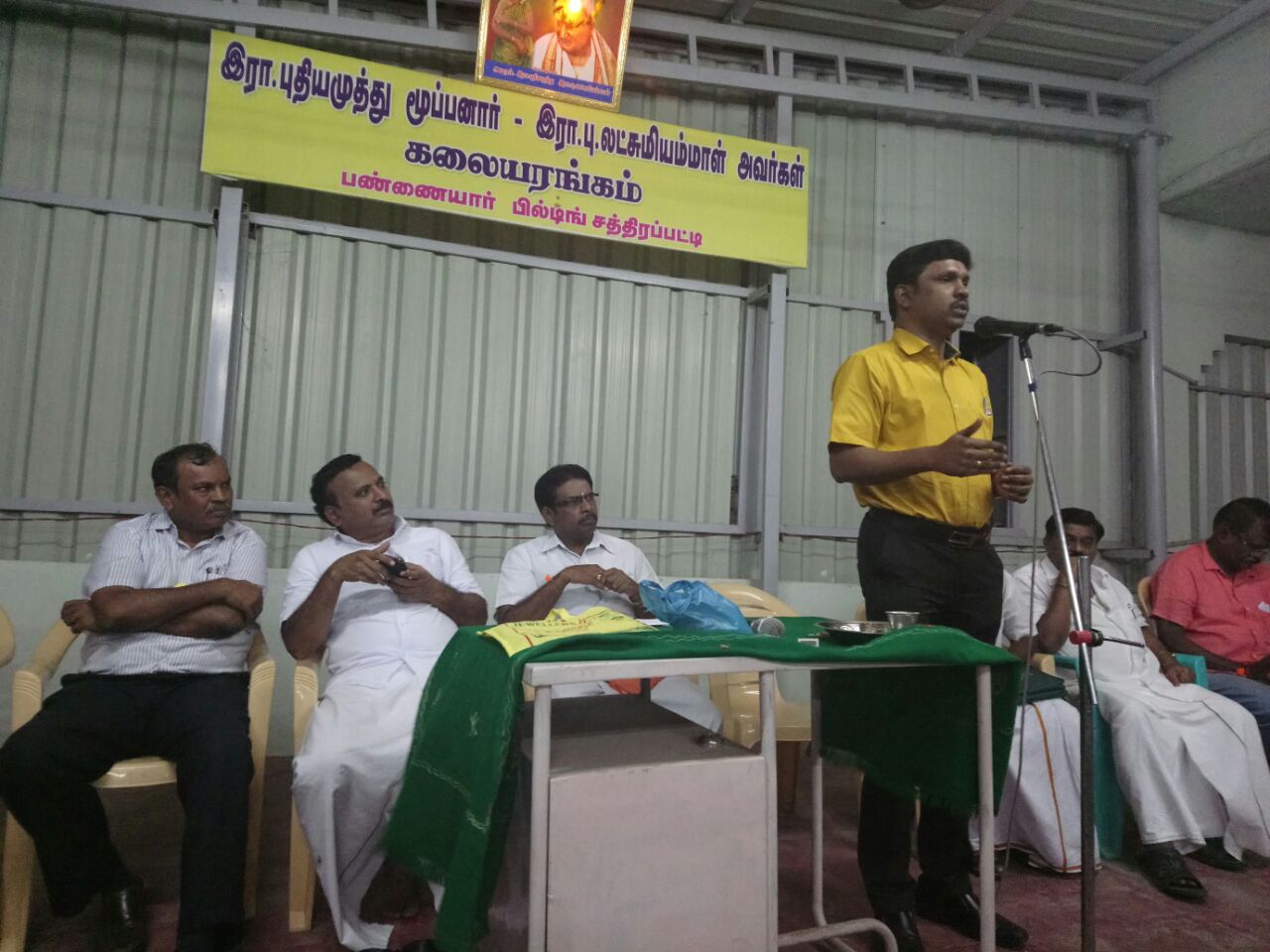 Stating that the social capital in and around this Chatharapatti village near Rajapalayam is making significant contributions to the region, Prof.Dr.Srinivasan has said that the issues on GST raised by the local manufacturers will be taken to the appropriate forum.
"This is a manufacturing hub in our region…. The BJP will look into the issues…Officials have explained and the enterprising businessmen in this village understood the GST importance……If anything is required, we will take it up for them," the BJP State Secretary has reassured.
The GST Commissioner, who was told about the pleas of Chatarapatti textile hub medical band-aid manufacturing units, had deputed a team to Rajapalayam.
GST Joint Commissioner Mr.Pandiarajan, Assistant Commissioners Mr.Nagalingam and Mr.Pandiarajan, explained about GST at the Chatarapatti meeting on
November 2nd 2017
.
Virudhunagar BJP district president Mr.Solaiappan and party district general secretary Mr.Radhakrishnan were among those who spoke. BJP functionaries including Mr.Sankar Pandi were among those who were present.