MADURAI: It is going to be action-packed and activity-full August month for the Bharatiya Janata Party (BJP) cadres in Madurai.
The list of events lined up for August 2017 was read out by the party State Secretary Prof.Dr.R.Srinivasan at the Executive Committee Meeting of BJP Madurai Urban district unit which was held at a private hall in Maattuthavani in the city on August 6th (
Sunday
).
Youth wing members from Madurai city have left for Chennai on
August 6th 2017
to participate in the huge rally towards seat of power Fort.St.George being organised by the Tamil Nadu BJP Youth Wing to raise three public issues – demanding complete prohibition, improving quality of education in government schools and conducting elections to local bodies in the State. The youth wing rally is on August 7th.
On
August 13th
, a seminar is being organised in Madurai city to highlight and spread the ideology, thoughts ,sacrifice and contributions of ideologue Pandit Deeandayal Upadhyaya. This seminar will take place at Gujarati Samaj hall near Jhansi Park / Netaji statue. A public meeting also is being organised on the same day.
EC MEETINGS IN ALL MANDALS:
Another alert given to BJP mandal presidents in Madurai city by State secretary Dr.Srinivasan and city unit district president Mr.Saseeraman was that the mandal presidents must complete holding EC meetings at mandal level by
August 16th
.
Before that, on the Independence Day on
August 15th
, all the wings of the party have been asked to hold meetings in their area at booth level after hoisting the national flag.
The visit of BJP national president Mr.Amit Shah to Tamil Nadu for three days from
August 22nd
has been described as a turning point visit for State politics since Dravidian parties ruled the roost for five decades and the BJP has been gaining popularity.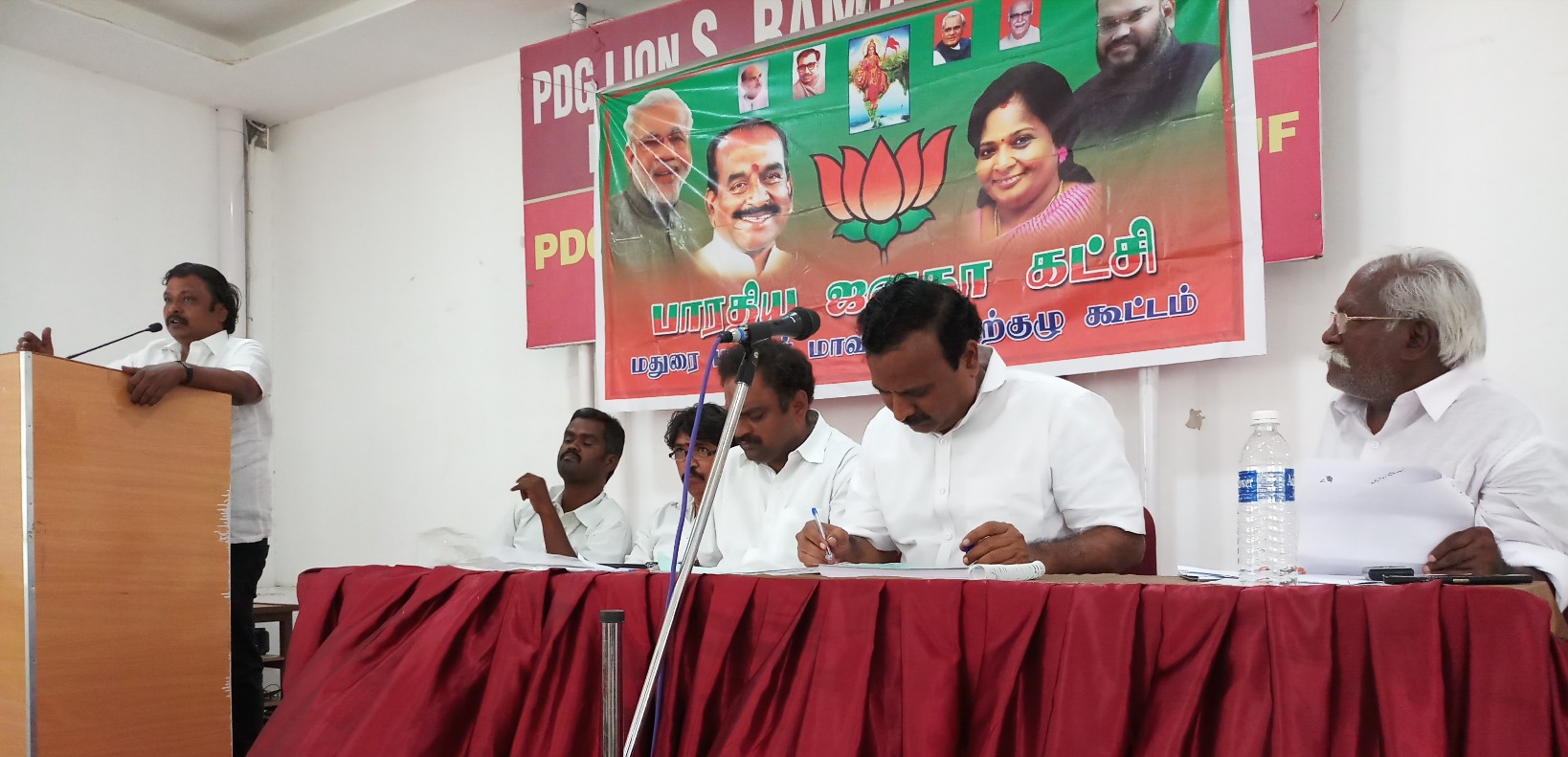 AMIT SHAH VISIT TO TN:
Mr.Amit Shah's meetings in Chennai and Coimbatore have been confirmed. Whether he will come to Madurai is still not known. Leaders from Madurai will attend the national president's meetings in Chennai.
The observers of assembly and parliamentary constituencies too have important assignments to be completed this month. So, in all, August 2017 will see a brisk BJP in Madurai city.
BJP senior leader and State vice-president Mr.M.R.Gandhi, Madurai district general secretaries Mr.K.K.Sreenivasan and C.M.Balakrishnan, district presidents of various wings and cells and mandal presidents attended the EC meeting of Madurai urban district unit on August 6th.